Autodoprava Kubat transport company operations center

at the address: Praha 9 Třeboradice, Svěceného 240/3, 19600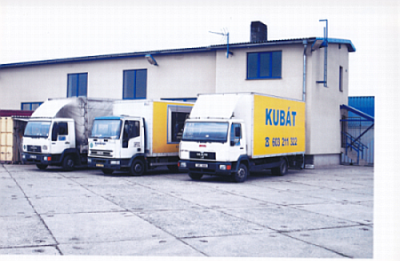 an office at the address: Liblická 323/2, 19800 Praha 9,

which is also the postal address.
Road Transport
the main scope of our business, carriage of loads via road motor vehicles has been the solid base of our ever-expanding services since 1990. We have built our road transport services portfolio thanks to our rich practical experience, especially in the category of road vehicles under 4 tons, among other. We ensure transportation using box-type trucks, tarpaulin-covered three-way loading trucks, including the possibility to remove tarpaulin to facilitate crane-handled loading.
Our road transport vehicles include flatbed trucks especially suitable for transportation of construction materials and equipment. Selected vehicles possess a hydraulic tailgate lift with load capacity up to 1000 kg, with an accessorial hand pallet truck at disposal. Inland road transport constitutes the substantial part of the incoming demand for our services, but we also take care of inbound international road transport from Germany, Austria, France, Italy, Poland and Slovakia. In discharging our services to the maximum satisfaction of our customers, we have also expanded the scope of our transportation activities to include carriage of overseas containers with cargo capacity 27 tons.

Inland Transport
Inland road transport represents 70% of our activity. This typically includes complete truck loads of different cargo types, i.e. construction materials, furniture, machinery and equipment, catering equipment, works of art, consumable goods and articles of drink, or spare parts and components for automobile industry.
International Transport
We provide international transportation services for road cargo transport mainly through lorry-trailer combination adjusted for carriage of containers dimensioned in compliance with ISO standards for 40' and 20' container dimensions, rated for load carriage up to the weight 35 tons. We also vehicles with total carrying load 7500 kg, mainly for ensuring express deliveries within 24 hours.


Container transport
We effectuate container transport in compliance with ISO standards for 40'and 20' dimensions in terms of inland as well as international transport across European Union member states. We dispose of our own containers 40' available for rent or container swapping within the Czech Republic territory.

Spedition
The range of spedition services provided by our company includes shipment, i.e. in-country and international forwarding of consignments ranging from 0,5 tons to 24 tons. Within our technical capabilities we provide for special load transport by semi-trailer trucks in synchronization with loading and unloading operations handled by mobile cranes with lift capacity 28 tons and specialized vehicles with hydraulic unloading arm, carrying capacity 2000kg.
This service category includes transport and sale of mortar sands and concreting sands of grain sizes 0-4, crushed stones and gravels of sizes 8-64, cement concrete and structural concrete only in dry or damp state, arable soil, recycled building materials of 0-64 granularity. We standardly transport these materials by Avia trucks with effective weight 3 tons, or by Liaz trucks with effective weight 10 tons, and by MAN trucks with effective weight 24 tons.

Waste Disposal
We are able to meet the needs of our clients in terms of ensuring waste removal and deposit services. We take care of waste loading and haulage followed by liquidation of waste at contractual dumping deposits or waste transfer areas. Among other, we mostly dispose waste classified in waste category O (rubbish, concrete waste materials, domestic refuse, furniture, plastics, insulating materials, mixed waste, biological waste), and additionally some types of waste ranked in category N (asbestos-cement material, asphalt boards, tyres, electronics, electric appliances). We issue formal certificates of discharged waste for households and companies in compliance with the decision of the Department of the Environment of the Prague City Hall granting the approval for the operation of mobile facilities for collecting and purchasing of waste.
Crane Services
Crane Praga V3S - 8t. Within range of provided spedition services we utilize cranes up to 28 tons – lift height 32m.


AVIA Service & Repair
We provide small and medium repair services and general overhauls for all AVIA vehicle types, as well as all types of extensions – truck bodies for AVIA vehicles (box-type trucks, flat bed trucks, drop-side and tilting trucks, container carriers).

Storaging
We dispose of a storage facility without a loading ramp, the interior of the hall accustomed to provide variable storage spaces. Material handling equipment: pallet trucks, forklifts, crane at 8 tons lift capacity.